I help individuals to make better decisions & lead their life with purposeful clarity.
My job is to facilitate you through the shift from mind-filled to mindful with total ease and in a fun manner.
My approach is holistic, simply because "You are whole & complete". I will only remind you of it and make you see yourself with the lens of wisdom.
Clarifying and Guiding You through Your Path
As a Clarity Coach, Master Trainer, and Author, my responsibility is to guide people about where and how to invest their energies to achieve personal and professional success. Taking them through a journey to master the un-tamed mind and develop the art of emotional and social intelligence is a part of my voyage. 
Through my coaching interventions, training sessions, and residential retreats, I focus on tapping into the human potential and its unlimited capacity. It involves reaching the inner and outer dimensions of one's life and work while giving them clarity, self-actualization, health, and fulfilling relationships.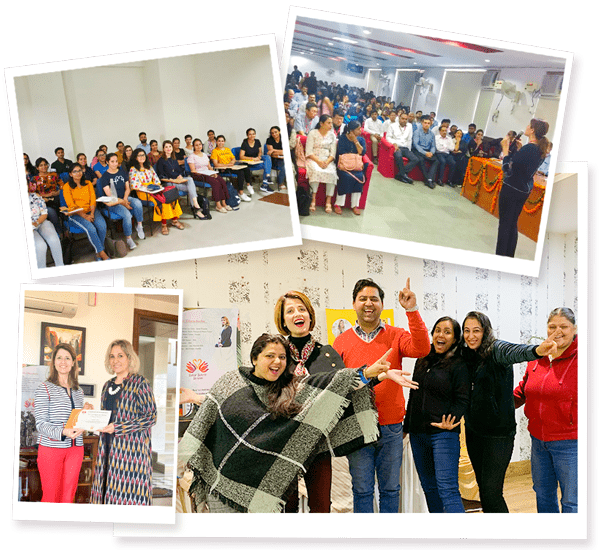 Working closely with Business Leaders, CEOs, Coaches, Trainers, Healers, and Therapists, has given me opportunities to empower the change-makers to enable well-being, growth, and healing in others. 
I work with people passionate about expanding their horizons to explore new opportunities – people on a mission to live a life of bliss where success is a by-product of their alignment, clarity, and lifestyle. 
I have written for numerous publications in print media and delivered talks on holistic health, metaphysical therapies, motivational leadership, and self-development in more than 756 workshops and seminars.
My book 'Twice Born' is an attempt to make spirituality a household practice and a way of life. It is a reflection of my experiences that led me on a quest to self-discovery, which resulted in the awakening of profound wisdom.
15 years of expertise in coaching and training
Certified in 62+ modalities, therapy forms, and self-help techniques
Blended IQ (Intelligence Quotient) and SQ (Spiritual Quotient)
Gifted Clarity and Authentic Communication
Post-session support and hand-holding practices (For trainees & therapists)
My philosophy in life is; to acknowledge, commit, and act if you want any form of change in life. For me, only an action-oriented step is an appropriate channel towards clarity, focus, and sustainability of personal and professional goals. 
I believe in a clear, straightforward, and guided approach. At the same time, seeing beyond the obvious, peeling off layer after layer to reach the root cause or the reality with ease, have been my strengths.
Applied Knowledge is Power
PMP – Certification, US (Professional Management)
When you change the perception about yourself, you change the way you think, feel, and behave. I will handhold you to experience this new world. Come and experience the magic. Watch your purpose unfold as you align your mind, body and soul.
Success lies beyond the Obstacles
Let's cross the barriers to reach your ultimate potential and goal.